Dred Scott Statue Penny Drive News Clippings
Forest Hills High School
Queens, New York

While participating in the National Council on the Social Studies Conference in New Orleans this past November, we met an energized and devoted teach named Karen Snyder. Ms. Snyder teaches at the Forest Hills High School in New York. When we met, she was very excited about the story and sharing this possibility of a Dred Scott Statue Penny Drive with her students.


True to her purpose, they held their penny drive in December and raised $600.50! in just a few weeks. We are thankful to this school as well as all the schools that have participated!


The following is a note from Ms. Snyder that she shared with us about the impact learning about the Dred Scott Decision had on one of her students.


---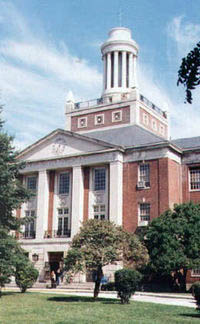 In November I attended the social studies conference in New Orleans. I was very impressed with the presentation offered by Ms. Jackson. The Dred Scott Decision is a vital part of New York State Social Studies curriculum. I felt that the Penny Drive would be an ideal opportunity for our students to become involved in something vital outside of our immediate school community. Ours is a large multi-racial, multi-ethnic school and the ideas behind this drive would appeal across these boundaries.

However, there was one problem. I teach ninth grade global history. We do not even mention the United States. In fact, we were discussing Mesopotamia and Hammurabi's Law Codes. Using the treatment of slaves in Mesopotamia, I pointed out that it was the United States that made slavery race based. We then discussed Dred Scott and Roger Taney's decision. The students were outraged. In fact, I think that they were ready to desecrate Taney's grave.



One student in particular, Doderick Tugman, threw himself completely into the drive. Doderick is a shy, soft-spoken young Black man. However, the entire story of Dred Scott seemed to resonate with him. He quickly raised a considerable sum. Just before Thanksgiving, I reminded the students that Thanksgiving is really a family celebration and that Dred Scott was trying to keep his family together. Doderick grabbed this idea and announced that he was going to ask for donations at his church. Altogether, he raised over $100.00. He reached outside of his usual community to help people he didn't know, in a state far away from New York. I am sure that Doderick will remember the Dred Scott decision.

---
Clayton Students He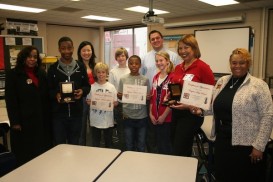 lp Fund Dred Scott Statue
Teachers at Clayton High School and Wydown Middle School have been leading the effort.
By Jason Sibert, December 29, 2011
For the past two years, Clayton educators Donna Rogers-Beard and April Fulstone have assisted The Dred Scott Heritage Foundation in raising funds for a statue in memory of Dred Scott, whose legal battles set the stage for the Civil War.
"The most important steps that led to the Civil War began here in St. Louis," Rogers-Beard said. "This was a case that had local origins, and I think people need to know that."
Plans call for the memorial to be installed at the Old Courthouse, where Scott's legal battles started. The building is located across from the Gateway Arch in downtown St. Louis. Lynne Jackson, a resident of O'Fallon who is Scott's great-great-granddaughter, started the foundation.
Court case rooted in St. Louis
Scott was born into slavery in Virginia and later sold to John Emerson, a doctor serving in the U.S. Army, the foundation's website states. When living with Emerson, Scott resided in Illinois and Wisconsin Territory, where slavery was illegal.
He filed a lawsuit in 1846 in St. Louis in pursuit of freedom. While the judgment went against Scott, the judge authorized a second trial. In 1850, a Missouri jury ruled in Scott's favor. The case was appealed to the Missouri Supreme Court, which overturned the jury's judgment.
The case then went before the U.S. Supreme Court, which in 1857 ruled 7-2 against Scott. The court said neither he nor any other person of African ancestry could claim U.S. citizenship, meaning he could not bring suit in federal court. The ruling stirred sectional tensions over the slavery issue.
Teachers organize fundraisers to keep past alive
Rogers-Beard has taught history at Clayton High School for 20 years. She coordinated fundraising through the school's Black Student Union. During Black History Month in February, the union collected donations and raised approximately $500. The students raised the money by placing penny jars in classrooms. Last year, audience members at a Ladue-Clayton basketball game made contributions.
The history teacher grew up in Chicago, and African-American history and civil rights have been a big part of her life.
"I heard Martin Luther King speak and participated in demonstrations," she said. "I can remember shutting down Woolworth's because of the lunch counter segregation."
Fulstone teaches sixth-grade history at Wydown Middle School. The Scott decision is a part of the curriculum she teaches.
"We don't hear as much about the civil rights activists of the 19th century as we do current civil rights activists," Fulstone said. "And these are the people that brought the movement to the forefront."
Fulstone and math teacher Dave Powers organized a fundraiser for the foundation that they called the Penny Challenge. The building's advisory teachers placed a plastic tub in the cafeteria, and students donated whatever they could.
Each penny counted as a point. The class with the highest point total received a meal out.
The fundraiser collected approximately $500.
Courtesy of Clayton-Richmond Heights Patch
LHWHS Students Recognized for Contributions with Visit from Dred Scott's Great-Great-Granddaughter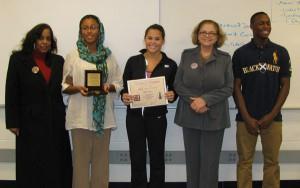 DECEMBER 09, 2011 LADUE SCHOOLS
Lynne Jackson, great-great-granddaughter of Dred and Harriet Scott, visited teacher Rob Good's class on Thursday, December 1, 2011 to personally thank the students of Ladue Horton Watkins High School for participating in the penny drive which will help to fund a life-size statue of Dred and Harriet Scott. LHWHS was one of just a few high schools in the area who raised over $500 to help build the statue to be erected near the Old Courthouse – site of the first Dred Scott freedom trials — in downtown St. Louis.
The statue will be dedicated as a symbol of victory for freedom fighters…past, present and future. The Dred Scott Decision in 1857 was a major catalyst that brought on the Civil War, motivated Abraham Lincoln to run for President, and resulted in the 13th, 14th and 15th Amendments to the U.S. Constitution. In little more than a decade after that decision, the nation abolished slavery, granted equal citizenship to all, and guaranteed the right to vote regardless of color.
Students at the high school produced a video about the Penny Drive which has been posted on The Dred Scott Foundation website.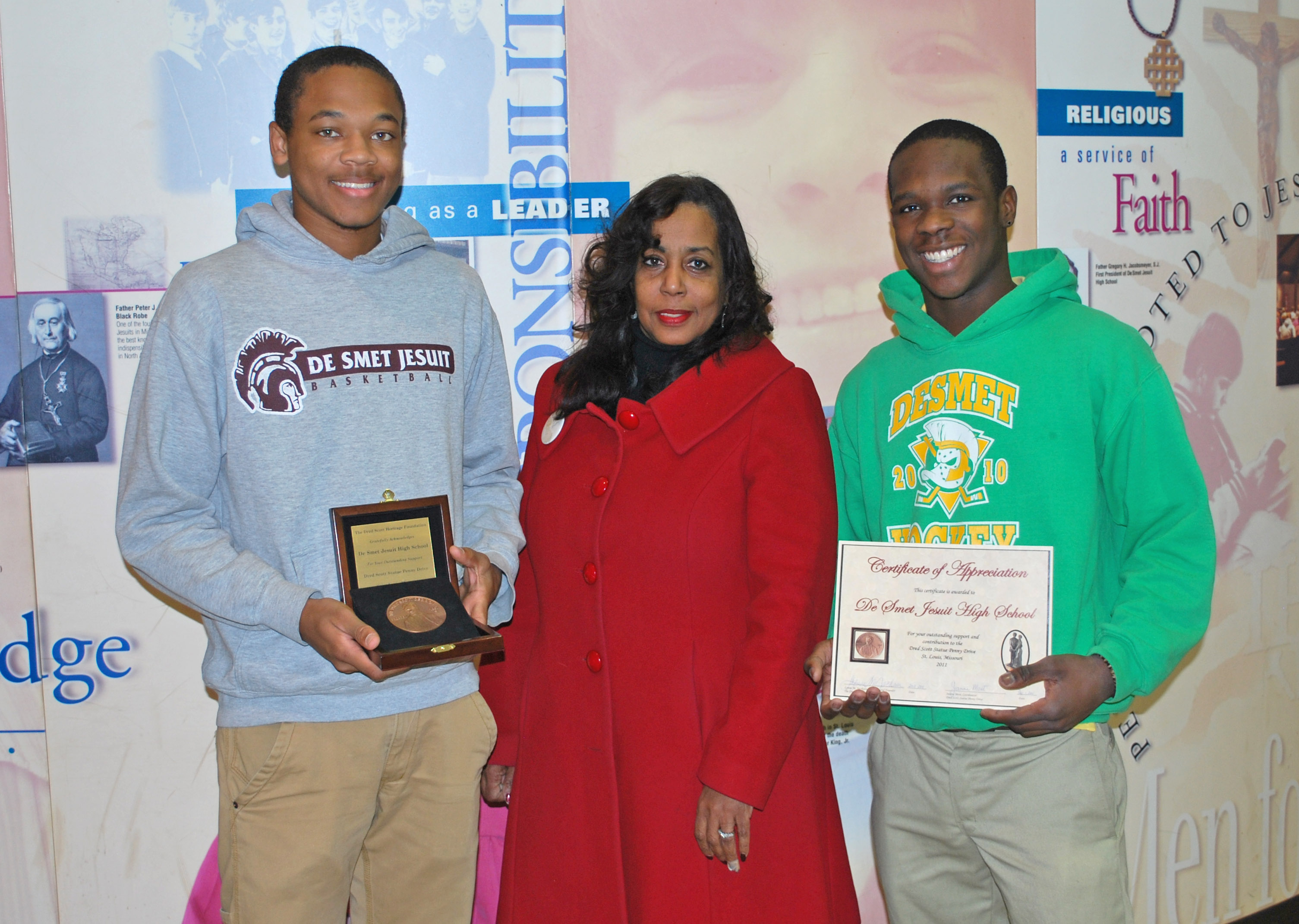 De Smet Jesuit

De Smet Jesuit High School recognized for a $1,000 donation to the
Dred Scott Statue Penny Drive

Pictured: Students from Desmet Jesuit High School; Lynne M. Jackson, President and Founder, The Dred Scott Heritage Foundation.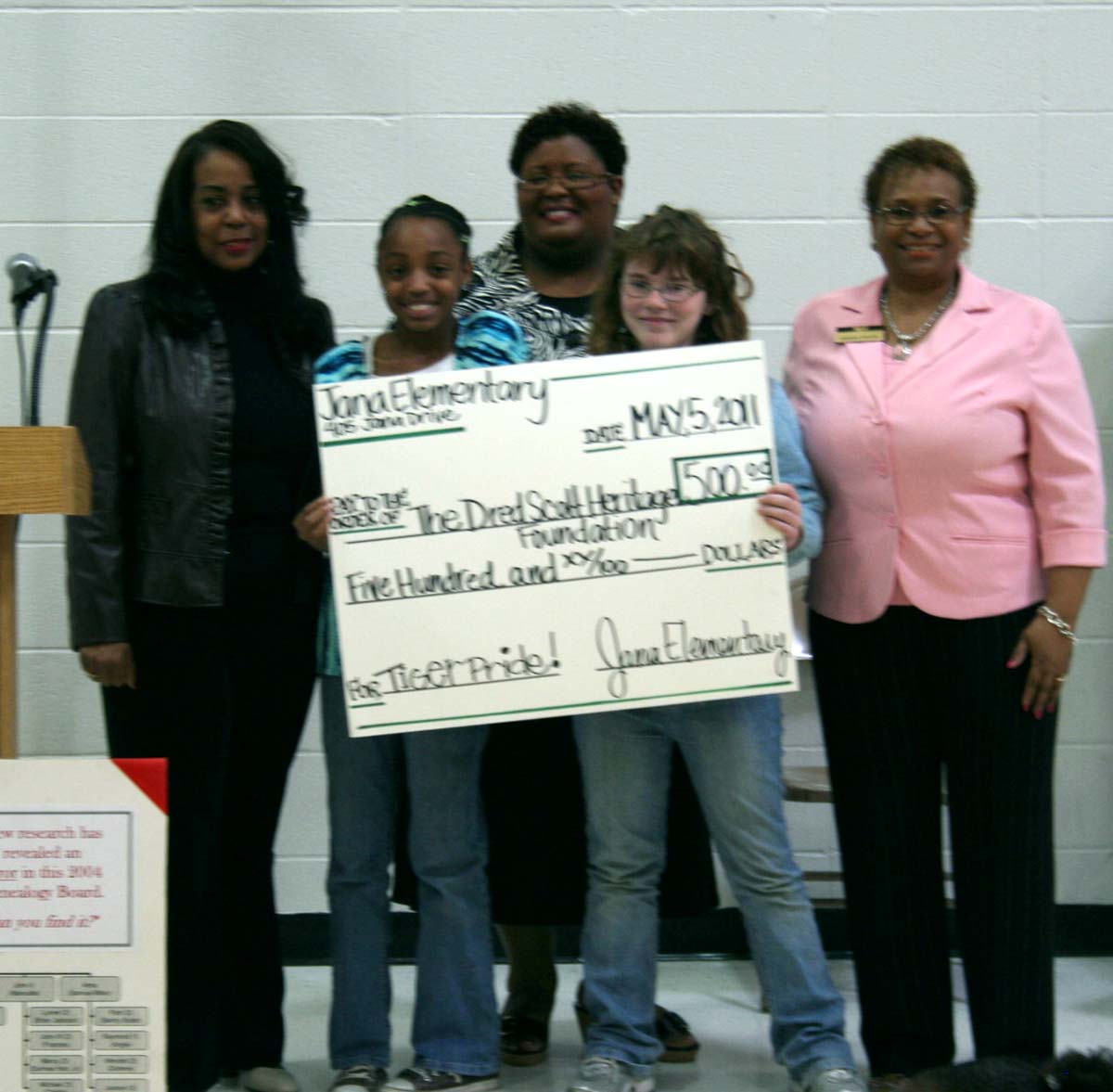 Jana Elementary
Jana Elementary presentation of $500 to The Dred Scott Statue Penny Drive.
Pictured: Lynne Jackson, President and Founder of the Dred Scott Heritage Foundation, Jana Principal Sheila Fitzgerald and students from Jana Elementary, and Brender Benson, M & I Bank.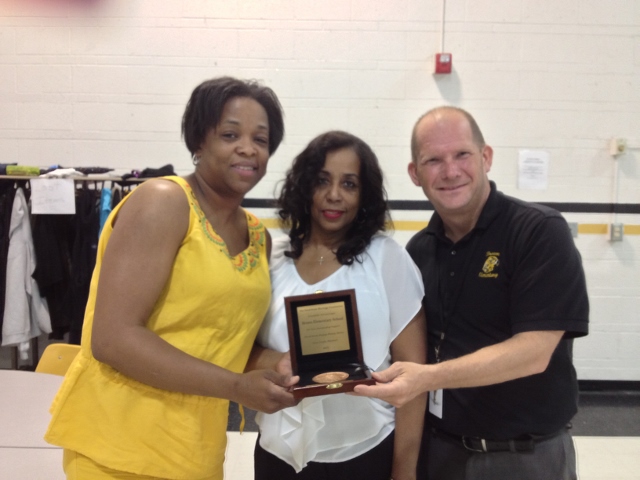 Brown Elementary School recognized for $500 donation to

Dred Scott Statue Penny Drive.